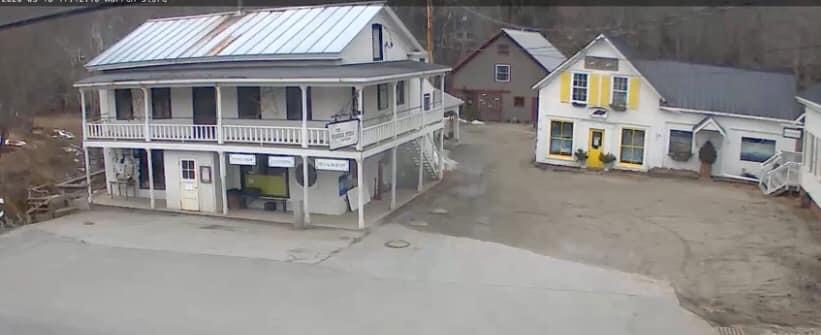 We at the Warren Store are missing all of you and hope that you are safe and healthy. I hope that you've all been able to utilize this unexpected free time to enjoy your friends (from a distance) and family (up close). During this anxious chapter here are some words from some members of the greatest staff ever to keep in touch with you, the greatest customers ever.
Pootie, my cat, does not seem to mind it at all! LOL! I do feel a bit guilty in that while I am enjoying the time off that my friends, especially those in the healthcare field, have to work in what has become somewhat dangerous and very stressful environment. I truly hope they can stay safe. – Phil from Downstairs
I am adjusting to my time at home with my two teenage children. Fortunately, for their sake, the kids are old enough to home school themselves. I am looking forward to warmer weather and am planning on an epic garden this year. Sap is flowing from the Maple Trees and my husband is keeping busy boiling up some liquid gold! Sometimes the news can be overwhelming. I am grateful for those working the front lines during this epidemic. I am looking forward to the day when we can greet our customers from near and far at The Warren Store. – Valerie from Downstairs
I am taking one day at a time, sometimes a minute at a time. I have my moments like everyone else but I'm very thankful to be living in such a place that I can take a breath and embrace the outdoors, to get lost and enjoy the beauty around me. This keeps me balanced. I hope you & yours are embracing this time as well. – Sherry from Upstairs
Your living is determined not so much by what life brings to you as by the attitude you bring to life; not so much by what happens to you as by the way your mind looks at what happens." ~ Kahlil Gibran As my college age daughter sits at the kitchen table doing her online class; I ponder this quote as I wait at home, our new norm of isolation. I've been trying not to succumb to tears but rather reflect on gratitude for the thousands out there confronting the virus head on. I miss working at the store. I miss my coworkers and our customers. I'm trying to stay healthy, rested, exercising and getting fresh air, stimulating my brain, embroidering a denim jacket, dabbling in painting, and humoring myself binge watching. I'm grateful to live in such a wonderful, naturally beautiful place. I'm grateful for the doctors and medical people, scientists, and all those working to save lives. And to all the grocery store and pharmacy workers, food services and delivery people—thank you! See you soon!! – Patti from Upstairs
I'm trying to stay positive although it is very challenging at times.  I miss everyone, regular customers included!!!  Staying hopeful that I will get an email or call saying "we're reopening soon"!  Take care and be well! – Darcy from Downstairs
I am missing my second home at the Warren Store, my friends, co-workers, and customers. I am home, organizing, cleaning, cooking, enjoying long walks, doing Yoga and Pilates. I keep positive listening to my favorite music, discovering new artists and enjoying listening to my sons practice their music. I am thinking of everyone near and far and am concerned and hopeful for our young people, students, especially High School Seniors (one being my son Sam from the deli) and College Seniors as they miss out on their graduation year end ceremonies, choosing a College or starting a career. I am grateful for community, health workers, grocery store workers and all those that are out there working for us! – Pam from Upstairs
Missing you all and of course, wondering when things might return to some semblance of normalcy. In the meantime, I am trying to stay sane, positive and productive. I have been making jewelry and finding that any creative outlet is helpful. Puzzles are good and I'm wishing I had remembered to grab a couple from our stock in the store! Very grateful to live here in Vermont in our wonderful community and would like to welcome any of you who are sheltering here from your home states! Wish I could see you in person! Getting outside is helpful and important but remember to keep your distance, take this seriously and STAY HEALTHY! Until better times… – Lori from Upstairs
Life bounces us around to places that we never would have imagined we would end up. The best we can hope for is that we approach this unknown with grace, strength, purpose, and even moments of humor. It's experiences like these that we'll remember all our lives and how we responded to and changed with this challenge. There are countless stories of kindness, innovation, good deeds, bravery, and good humor that have captured our imagination and raised our spirits during this time. The human spirit is contagious too and it is far more powerful than what we're dealing with now. We will get through this together.
From all of us here at the store- we miss you and can't wait to open our doors to reunite and catch up. To the best customers in the world and the best staff in the world! Keep walkin' and keep talkin'! Jack