One of the things I've been working on lately is bread,
specifically our Pain au Levain. Naturally fermented, with no commercial yeast
it is the original "sourdough".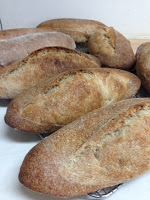 While we've been making bread here at the store for longer
than most of us can remember this has taken me out of my comfort zone, but I
have to say I'm really happy with the results. With a bit of whole wheat and a
nice yeasty tang, it's the perfect bread to pair with some Vermont cheese, or
to grill and top with some garden tomatoes and olive oil.
Most of what we're making at this point has been snapped up
by our friends at The Pitcher Inn, but we usually have a few loaves on the
shelf on Saturdays, so if you see it grab it. In the coming weeks I'll be
ramping up production and I'm hoping to have it for sale several days a week.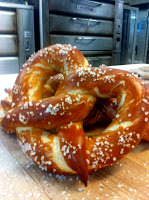 In the meantime come on in on Thursday for pretzels!