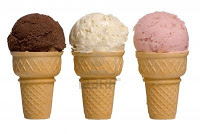 Hear ye, hear ye, ice cream is back at The Warren Store!  We finally got the hint after several
persistent children peppered us with requests for root beer floats and cones.  Not only do we have the standard maple and
vanilla, but for you health nuts, we have Greek frozen yogurt available as
well.  The ice cream is from
KingdomCreamery
and is all natural, creamy and truly delicious.  A lovely family of Vermont farmers produces
the ice cream up in the Northeast Kingdom.
This spring, Jack, Fiona and I were able to get a behind the
scenes look at Kingdom Creamery to see where all the magic happens.  We pulled up to a bucolic Vermont farm with
rolling acres of pastures and the classic red barn.  Over 200 Holstein cows were grazing contentedly in the green
fields.  We were greeted by Jeremy
Michaud who gave us a grand tour of the ice cream operation.  Although we did not have the privilege of
actually seeing ice cream being made, we did get to check out all the fancy
stainless steel ice cream machines and even taste some of their latest ice
cream creations.  Together as a family,
the Michauds create the ice cream all on site.  The milk and cream used in the ice cream is all from their herd;
the family also does all the producing and packaging on the premises.  Although Kingdom Creamery ice cream has only
existed for a few years, the farm has been in the Michaud family for over three
generations and been a working dairy farm since the beginning.
This year, Kingdom Creamery rolled out a new line of Greek
Frozen Yogurt, including Regal Raspberry Chip and Banana Cream Pie.  The creamery is also experimenting with fun additions such as M &M's, pretzel pieces, chunks of cookie,
and my favorite, cookie dough.  We will
be rotating these flavors in and out throughout the summer, so be sure to stop
by and give them a try.  We hope to see
you throughout the summer, catching some relief from the hot summer sun with a
few scoops of Majestic Maple or some Pretzel Pizazz.
~ Colleen