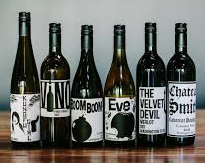 "February is merely as long as is needed to pass the time until March."   Dr. J.R. Stockton
Poor February has taken such a bum rap.  Considered by many to be the "fly over" month to get to something resembling spring in March.  I get it.  It's 6 degrees out there.  And that's today's high.  And there's more where that came from.  It  can grind you down to a fine powder.
But February has so many redeeming qualities that go beyond the fact that it's the shortest month!  The sun is a bit higher, the days a bit longer, the temperature a bit more tolerable (it will happen!).  Valentine's Day, Mardi Gras, school vacation and perhaps a warm weather getaway.
February for us means "what can we do to honor the holidays and inspire our friends?!". There's lots going on.  On Tuesday, February 10th, at Tracks, we are hosting a wine and food pairing featuring the wines of Washington state winemaker Charles Smith.  What a great way to break up the winter routine and enjoy great food and wine in a beautiful setting by a roaring fire.  We'll have prizes as well.  It's all about fun and our Warren Store family!  You can sign up at the store and the cost is $30.00 per person.
On Friday, the 13th, we are open until 7 pm, so our friends coming up for the week or weekend will have an opportunity to load up on provisions.
For Valentine's Day, Saturday, February 14th, we are offering 15% off on all sparkling wines and champagne and we will have a huge assortment of chocolates, featuring Quayl's incredible creations.  Our bakery has a few things up their sleeves as well. Every Monday beginning on February 9th, we are featuring our unique take on pulled pork sliders. Colleen has come up with a great recipe!
We are delighted to carry Artisan Meats of Vermont. These sausages and bacon are incredible and put together right here at the Food Hub. Some are infused with Sean Lawson's Sip of Sunshine or Citizen Cider!
Our bakery is working on a collaborative project with Mad River Distillery. We've partnered up before with our mousse and their rum and it was very dangerous and decadent. It will be interesting to see what our bakery does with that.
By the end of the month we will have our new store logo out there. No dramatic change – just a freshening up. We're very excited about it and we hope you are too!
Upstairs, we continue to receive new merchandise.  Focusing on comfortable, layered clothing that brings spring to mind but cozy enough to wear now.  If you're going somewhere warm for vacation, we have clothing that will work for that, too.  We have a great raffle going on for a "trunk" full of Commando goodies!  There is no purchase necessary; simply come upstairs and fill out a ticket.  The drawing will be held on February 14th.  You do not need to be present to win!
On a sad note Sandy Porter passed away in December.  Sandy had been living in Florida these last few years. Sandy did a few tours of duty here at the store and was a lovely and dear presence upstairs.  Sandy was working at the store when I started almost 35 years ago and she was here just 3 years ago.  We go way back.  We will miss her and will never forget her sweet essence.
Our friend Melissa Roberts who was a "back office girl" for more than 10 years, has moved up to Sugarbush.   She will certainly be missed.
Embrace the winter, embrace your loved ones.  It's February – cold on the outside and warm on the inside.
To the best customers in the world,
Jack