"Once again we come to the holiday season, a deeply religious time that each of us observes, in our own way, by going to the mall of our choice."    – Dave Barry
This is such a wonderful time of the year but we can easily get caught up in the holiday crush and endless to-do list. Here in the Valley we have so many wonderful shops, restaurants, services, and parking! Why not keep it local?! Socialize with your neighbors, support your community, and celebrate the season with "controlled"
chaos!
We love this time of year and want to do whatever we can to help you love this time of year, too. Our bakery and deli have a full menu of holiday treats and catering ideas that we can prepare for your family and friends.
Our champagne tasting on December 9th is sold out but we will have our champagne and sparkling wine at 15% off from December 20th – December 31st.
Upstairs is a colorful cornucopia of gift giving delights! Hats, scarves, gloves, jewelry and toys for young and old; sweaters, socks, tops and pants! New arrivals for Holiday dressing from Alternative Apparel, Horny Toad, Dylan and beautiful burnout velvet and silk jackets, funky and wearable with jeans, just right for our casual world. New clothes still arriving. Desigual down and faux shearling jackets, skirts, tops and dresses are 30% off and Indigenous Organic, Fair Trade alpacas and cottons are 20% off. Best "one stop shopping" in Vermont, believe it! We have snow globes!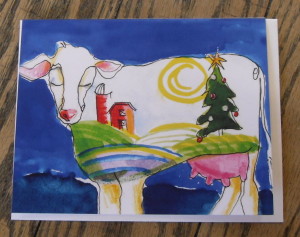 Free gift wrapping and advice from very well-trained elves! Let us make your holiday shopping carefree and fun!
Stop by our Country Christmas celebration on Saturday and Sunday December 6th and 7th. On Saturday, we'll have a beer tasting featuring some of Vermont's new and exciting brews and there will be free hot cider and samples and great deals upstairs. A few sky lanterns will get launched too, if the weather allows.
I'm an analog guy in a digital world but we are now on Instagram, as well as, Facebook and Twitter. I'm very appreciative of our younger staff who are taking the Warren Store into the 21st century!
Our store hours are 8-6 every day EXCEPT on Christmas Eve our hours will be 8-5 and we are closed on Christmas Day (Pajamas. All day!) We are open on Friday, December 26th until 7 pm. We are open from 8-6 on New Year's Eve and New Year's Day and will be open until 7pm on Friday, January 2nd.
"Maybe Christmas, he thought, doesn't come from a store. Maybe Christmas perhaps means a little bit more…."  – Dr. Seuss
The wet floors, the roaring wood stove, the aromas of hot cider and soups, the clanging of chairs around the tables, laughter and more conversations going on than you can keep track of. Controlled chaos. Stop by, relax and enjoy your holiday season the Warren Store way.
"Don't let the past steal your present. This is the message of Christmas. We are never alone." – Taylor Caldwell
Our thoughts and prayers go out to Ray Montgomery's family. We will miss our dear friend. The staff of the Warren Store wish all of you a wonderful holiday season. You are family to us.
Jack