"October, baptize me with leaves!  Swaddle me in corduroy and nurse me with split pea soup.  October, tuck tiny candy bars in my pockets and carve my smile into a thousand pumpkins."
Rainbow Rowell, Attachments
The month that Vermont is like a box of crayons exploding.  How lucky we are to witness one of the world's greatest displays of nature literally in our own back yard.  I can tolerate all of the peak foliage conspiracy theories – no rain, we need rain, it's not cold enough, it's too cold – to enjoy what ultimately arrives the first two fabulous weeks of October.
Here at the Warren Store I find myself casting a reassuring eye at our wood pile and wondering when the umbrellas should come off the deck.  Seasons are definitely colliding.  Overnight the aromas of Senegalese Chicken soup waft throughout the store and steaming hot cider replaces iced coffee and tea.  Our ultimate season straddler is the maple ice cream and cider float -a tasty look back at summer but ahead at the fall harvest.  Pies are now a regular presence in our bakery case and porters and stouts appear in our cooler.  Red wine is slowly encroaching into white wine's summer residence.  Telltale signs of a new season.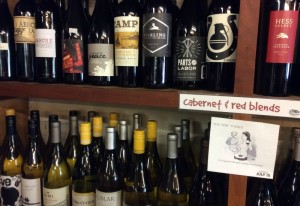 Funny how we were just quaffing vino verde and the next thing you know we're sipping these big brooding red monsters like a Phantom and Abbot's Table red.  These two wines exemplify what red blends can be.  As our cuisine moves to heartier dishes so do our wine pairings.  These will not disappoint.
In this month's "right under your nose" feature I've chosen two locales.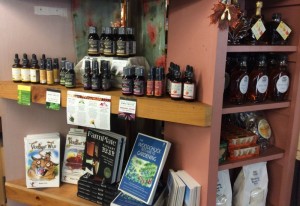 The first is at the Village Grocery. The ever enterprising Troy has come up with a juicer.  Not only is it fun to watch but with the cold and flu season right in front of us fresh squeezed orange juice is a pharmacy in a glass.  Check it out!
The other day I walked the Bobbin Mill trail.  I thought I was in the set of the Hobbitt! Spectacular and free.
A big shout out to Seymour and Gloria Gold.  We have been friends forever and they haven't been able to come up.  The Warren Store staff wishes you a great fall season.  Ray still saves your paper!
"I'm so glad I live in a world where there are Octobers."
L.M. Montgomery,  Anne of Green Gables
Amen to that.
~Jack