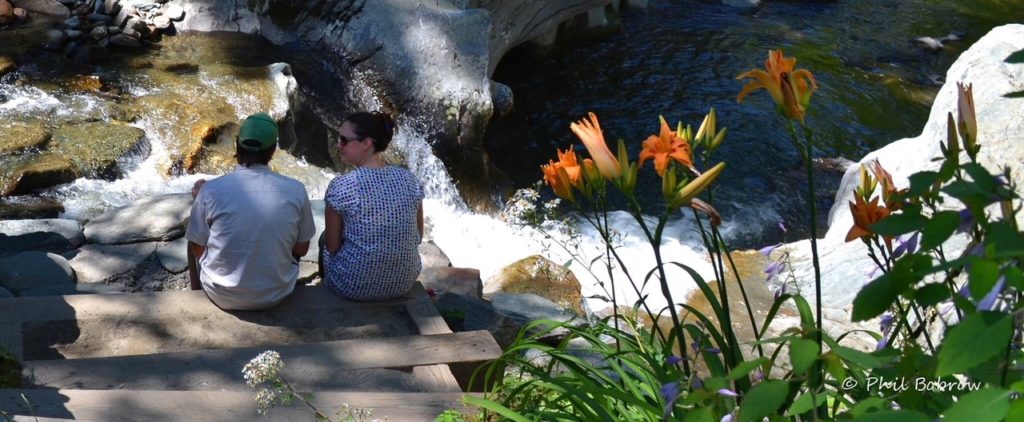 "I wonder what it would be like to live in a world where it was always June." – L.M. Montgomery
I wonder what it would be like to live in just one week that was like June. This extended soggy spring has certainly ground all of us down as we crave for warmer sunnier days. It is coming – I can feel it!
While we wait to plant, mow, and do all of those chores that are waiting for us but require "DRY", here at the store we're staying busy getting ready for another summer season. This spring we've created a pocket park by the bridge, replaced the clapboard on the deck side of the building, spruced up our deck by the Kid's Brook and painted our deli. We're expecting our bike rack to arrive any day now. We'll be adding air conditioning to this old building in mid June. I hope we can get to use it!
We're delighted to have Kitty Coyne as our new bakery guru. Kitty will bring her vast experience to our everyday selection in the store. And if it's June, it's all about strawberry rhubarb pies! Kitty and her staff can also create the perfect cake for your June celebrations.
Coming this month in the deli – Every Wednesday beginning June 12th is Lobster Roll Day! Colleen will be offering this summer classic as our Wednesday lunch special and Suzanne will be keeping the grab and go meals well stocked with delicious summer fare.
Our wine selection is ready for warm weather. We have a huge selection of rosé as well as light and crisp Vino Verde and Sauvignon Blancs. I'm a big fan of obscure French varietals like Aligoté and Picpoul. These are wonderful summer whites of high quality and low cost. Watch for my "Jack's Picks" – a 4 pack of assorted interesting and value priced "under the radar" wines that I will put together every month.
It's as colorful Upstairs as the blossoms of June outside! We're well stocked with dresses for your summer events as well as casual, chic clothing for men and women. We have Fair Trade jewelry from around the world to accessorize those summer outfits. We have a new line of beautiful ceramics by Dan Lasser of Londonderry, Vermont. Place settings of which can be special ordered. Everyday glassware and stem less wine glasses from recycled Coke bottles may be just the ticket for summer entertaining along with recycled, cotton/paper star lanterns. There are gifts and cards for young and old: graduation and Father's Day are around the corner! Great gifts for Dad include socks, hats, bags, wallets and shirts from all your favorites: Kuhl, Toad & Co., Royal Robbins, Prana and True Grit. And always free gift wrapping!
Our summer hours begin Friday, June 14th. The store will be open until 7pm every day except Sunday. Stop by at the end of the day and top off your dinner with our Kingdom Creamery ice cream cones and cups!
We'll be celebrating Vermont hard ciders throughout the month of June with specials and tastings from Silo, Tin Roof, and Citizen Cider. We're delighted to hear that our friends who grow the apples in Addison County avoided any damage during bud break with the weather being so uncooperative.
This month's "under our noses" choice is Couples Field. Situated between scenic Bridge Street and the Waitsfield shopping center on Route 100, this cool little recreation area hosts an infinite number of baseball games and offers yet another social gathering spot for the parents of all of those aspiring major leaguers! I'm hearing that a bocce league is being formed and the games will be held at the field. The field also hosts a variety of family and business get togethers where you can run around to your heart's content or have a dip at two of the nicest Mad River swimming holes.
I know it is June and I don't want to rush things but the 4th of July is a only month away. And it is on a Thursday this year. We're anticipating a big four day weekend. We'll be open on the 4th from 7:45-5 and have our regular summer hours throughout that weekend.
Roses are red, violets are blue, but they don't get around like the dandelions do! – Slim Acres
Enjoy this beautiful time of year. We all feel a little behind with our chores – we just need to adjust to nature's timetable and jump in when we can!
To the best customers ever!
Jack