These last few weeks have been very confusing for a seasonal wine drinker like myself. Cold and rainy – right to the reds, warm and humid – back to the whites. I'm confident that after these weather hiccups things will settle into a pleasant warm groove.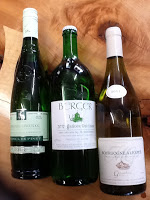 There's nothing like finishing the day with a really good glass of white wine: good flavor and fruit, thirst quenching, racy acidity and clean finish. I love Sauvignon Blanc and Chardonnay but lately I've been moving to the more obscure white grape varietals. Furmint from Hungary, Picpoul from the Languedoc in France, Gruner Veltliner from Austria, Grenache Blanc, Viognier, Pinot Gris from Oregon and Macabeo from Spain. These are certainly not household names but are excellent summer whites that are great by themselves and match up really well with all of our fabulous local foods. The added beauty is the price. Because they are not well known, producers of these wines are trying to get their foot in the door of a very crowded wine market and they do that by keeping the cost sinfully low for what you get in the bottle. They may be hard to pronounce or hard to find (except at the Warren Store!) but you will certainly be rewarded by making a small adventurous investment and trying some of these delightful summer quaffers.
I don't want to push those old favorites, Chardonnay and Sauvignon Blanc, to the margins, but next time you try one, get one from a different region. These two grape varietals are very adaptable and the unlikeliest of regions are turning out some surprisingly good wine. Cheers!