We are celebrating French Wines this May by featuring Bordeaux at our Wine Tasting on Tuesday, May 11th, to be held in the gardens of the Pitcher Inn (weather permitting) . These wines have all been selected from the range offered by Monsieur Touton.
Monsieur Touton is the epitome of success – hard work, tenacity and an unwavering focus on purchasing the best wines available. His selections over the years have made him a very wealthy man but he hasn't lost his sense of mission.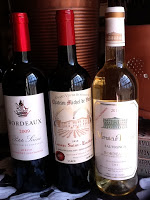 Over 20% of his portfolio is Bordeaux, his pride and joy. Two back to back exemplary vintages (2009 and 2010) have been highly touted in the wine world for their opulence, accessibility, and ripe fruit (2009) and structure,austerity, and age worthiness (2010). At our Wine Tasting, we'll be able to taste and compare them. The real surprise here is that despite two very good consecutive vintages, it is after all Bordeaux, there's a huge assortment of these fine wines available at incredibly good prices. Because the two vintages went through fairly dry seasons, both the reds and the whites are showing very well. Dry seasons force the grape's root system to work deeper to seek out moisture. In the process the root system picks up the nutrients, minerals and composition of the soil creating the foundation of the wine's flavor profile.
Bordeaux whites are typically blends of Sauvignon blanc and semillon, while red Bordeaux is made up of the "cinque cep ages" (the five varietals) which are Cabernet Sauvignon, merlot, Cabernet franc, malbec, and petite verdot. We hope that you can attend our event and we keep a very good assortment of these wines at the store.

This long stretch of summer like weather has certainly changed my drinking inclinations. There's nothing like that first bottle of rose- truly a symbolic kickoff to the new season.
The structure and body of a red and the refreshing qualities of a white collide to make rose the perfect summer wine. Pink doesn't necessarily mean sweet although there are many that are. Rose from European countries tends to be bone dry, crisp, with vibrant strawberry and cherry flavors and good minerality. They are the iconic sipping wines in many areas of France and Spain and they're making many converts in this country as well. People are getting to know and understand them!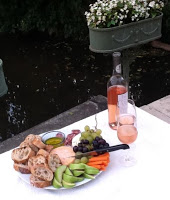 Looking at rose is not unlike looking at different grades of maple syrup( sorry for using a very sweet product to draw the analogy!). As syrup gets darker, thicker and more intense as the season evolves, the flavor and color of rose is determined by how long the winemaker leaves the grape skins on when pressing the fruit. For those really pale pink, lacy roses, the winemaker will gently press the grapes and remove them allowing the skins to provide the color and style of the wine. The longer the pressing, the more extraction of color and flavor density.
I'm particularly fond of the lighter styles but they're all good and DRY! Check out our selection- we have the range. Rose is a refreshing aperitif by itself or a perfect compliment to summer cuisine.

French wines these days offer enough selection, variety, value, and charm to please anyone's palate. Whether you're grilling and looking for a substantial red, enjoying a lighter summer dish and want a crisp clean white, or sitting out on the deck enjoying the last rays of sunlight with a glass of rose, I can think of no better wines to choose than these new French arrivals on hand at the store. Sante!
~Jack