Spring in Vermont is sometimes slow in coming, but it's warming up, the
peepers are chirping, and sugaring season is over so it's time to start looking
forward to summer.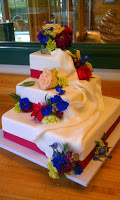 One of Rachel"s favorite wedding cakes
Here in the bakery we are welcoming a new baker, Aliya. She
is not only new to the store, but new to the valley so be sure to say hello
when you see her in the store. She has some great cake decorating skills, so
along with Rachel our resident cake diva we're ready for you all to keep us
busy with birthday cakes, wedding cakes or just something special for a summer
party.
We made some Rice Krispy Treats the other day just for fun, but it's
always surprising to remember all over again just how good they are. As I'm
writing this Rachel is rolling out some cow shaped sugar cookies to decorate
and we're looking through a new whoopie pie cookbook looking for ideas. Last
week we made some lemon trifles with our always popular lemon bread that were
incredible. I usually try hard not to take my work home with me, but I made an
exception for this and it was a great spring treat!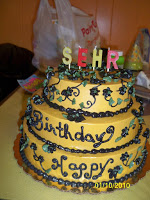 A birthday cake Aliya made for her niece.
So as you can see, even though it's quiet we're here every day thinking
of new ways to tempt you. I know our customers are a well-traveled lot, so if
you've seen anything new and delicious let us know.
~Jim