The Vermont Farmstead Cheese Company began as a community effort to save a local farm and it's surrounding rural landscape in South Woodstock, Vermont.  In very short order, the dairy farm has been transformed into an award-winning cheese company that is creating an entirely new generation of unique farmstead and artisanal cheeses. Vermont Farmstead's multi-breed herd, sustainable dairy farming practices, and creative cheese makers have put a delicious Vermont twist on traditional world cheese recipes.  The Vermont Farmstead Cheese company has also opened a cut and wrap and shipping facility in nearby Windsor, VT to help with the ongoing  company growth. While embracing our continued growth, the company remains firmly dedicated to its founding principles to produce a variety of unique and excellent cheeses, gently care for its herd of cows and farm land, foster Vermont's farming communities, and elevate the state's dairy industry.
& The Warren Store is now featuring Vermont Farmstead's collaboration with Lawson's Finest Liquids: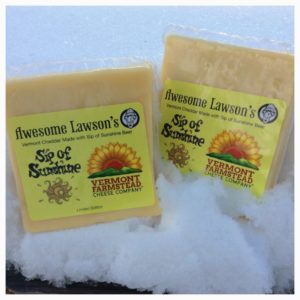 Makes for a delicious holiday gift or keep it all for yourself!
Get it while you can as this is a Limited Edition cheese!