After a winter aftershock last week whose tremors were felt all the way to the Caribbean
I believe that we have finally turned that proverbial corner. You can take the window scraper out of the car and put it away. My guarantee! At the store we are all willing ourselves into the spring season. New food. New clothing. Our Memorial Day Weekend Sidewalk Sale. What stays the same is our commitment to you in adjusting to this new, and much deserved, coming out party!
As winter slowly unwinds and we turn toward warmer temps, we say so long to pot pies, hearty soups and robust entrees and hello to lighter fare. Get ready for creative new recipes and some old favorites like gazpacho, sushi, fish tacos, fresh summer salads, etc.. We have local ribs, sausages, burgers, hot dogs, seafood and
kabobs. And don't forget the ice cream! Kingdom Creamery in cones and cups is coming soon. Join us on the deck overlooking the brook for some summer recipes guaranteed to satisfy everyone!
Happy New Year! Oh, wait, that already happened. Well, it's a new year for the bakery with spring fever in the air; we bring in new delights this summer: Citrus Mousse, Key Lime Tarts, Lemon Meringue Tarts and back by popular demand our scrumptious Zucchini Apple Chocolate Chip bread.
There is so much beautiful merchandise Upstairs right now and such a wide variety! True Grit, Prana, Toad & Co. and Kuhl are in for men: shorts, shirts, tees and swimsuits. For women we have the best collection ever! There are dresses for special occasions from Cubism, Staples and CMC, tops and tees from Sucre Soir, Nally & Millie, Parsley
& Sage, Alternative Apparel, Cut Loose and Dylan. We have a wonderful selection of Comfy and Chalet and SO much more.
Our Housewares department is filling out with bowls from Miya, tea towels, new jigsaw puzzles and coming soon: melamine dishware for summer entertaining. Just in, are oilcloth table cloths in bright, fun prints from Freckled Sage. These have been a favorite in the past and highly requested, so they are back in time for outdoor
dining and summer fun!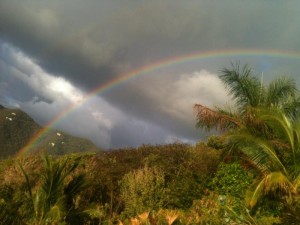 There is a new collection of Zutano clothing for babies coming each month. Great pocketbooks and summer straw bags, you just have to see for yourself all the new and exciting offerings that await at the top of the stairs!
Come on up! Being fairly faraway for these last two weeks (but always with an eye to north!), I've had plenty of time to think about friends, community and the store. Where I was there were special places that provide comfort, conversation, information, food and fun. Wherever we go, and I think that I can speak for all the Warren Store staff, we'll run into someone that has a Vermont connection and most often has a Warren Store experience. It's a small world and it's very cool when that happens and it happens a lot! These last two weeks I've run into former employees, I've met people who waited for Sean's beer on Thirstday, people who stopped by for lunch. When we reach that point of the conversation where they remember their Warren Store experience I can see them actually recollect that memory and a smile crosses their face. There are many fine businesses that provide this kind of experience- we are not alone- but for all of us here at the Warren a Store that's a very big reason why we come to work every day. It's certainly the reason that I've been here. Our new logo subtitle is "almost world famous". The Warren Store nation is growing and we have the best members in the world. Not almost!
To the best customers in the world!
Jack