"The first day of April is the day we remember what we are the other 364 days of the year."   ~Mark Twain
Present company excluded! I write this newsletter as the winds swirl and the snow falls all around the store.  This is the biggest joke of all!  But a few intrepid souls did venture out to the deck for lunch over the weekend.  And Nicky's two dogs have shed their booties on their afternoon walk.  I'm feeling it.  I'm sensing it. And when the vestibule gets removed from the front door, there will be no looking back on what seemed to be an eternal winter. A true measure of spring is when our maple syrup supplier, Dwayne Braman, calls and lets us know that he's canning.  I got the call!  This year's syrup will be available any day now and by all accounts the quality, if not the yield, is first rate.
Easter is upon us early this year (April 5th) and we have an assortment of Easter goodies from Quayl's chocolates to the classics – jelly beans and marshmallow peeps. The store will be open our regular hours (8-6) on Easter and you can count on the bakery to come up with their decadently clever Easter  offerings.
Rose wine is a great way to put a step into your spring. Chilled, bone dry, refreshing and a perfect wine for Easter ham.  If the snow is gone from your deck at home this wine would make a worthy initiation to your outdoor eating season.  We'll have a bunch of new ones arriving the beginning of the month from France, Austria and Spain.  Drink pink!
The number of people requesting gluten free products lately has been remarkable. We hear you!  We are getting more gluten free options in the store such as our friend Liz Lovely's new line of cookies,  and assorted crackers, bread and wraps for your sandwiches back in the deli.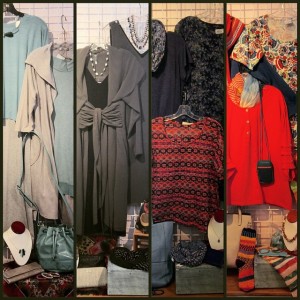 Upstairs is brimming and bursting with the best spring collection ever!  There is literally something for everybody upstairs right now!  Young or old, short or tall, slender or "chunky", there are beautiful options.  The colors are vibrant and luscious, the shapes are varied, whether dressing up for a special event or your everyday routine, you will fall in love with the clothing upstairs!  There are fun collections of Prana for men and women, Kuhl and Toad & Co. (formerly Horny Toad).  Gorgeous pieces from Comfy that fit and flatter and are oh so, well, "comfy"!  Louie & Lucie is all about young, hip and retro, vintage inspired little jackets and dresses. Fit and Flare is the style of the moment and we've got it with the perfect little jean jacket to throw over all.
If you're going to a wedding, we have Cubism dresses and Staples chiffon, reversible pieces.  We have all of your usual favorite labels like Nally & Millie, Chalet, Alternative Apparel, Dylan, XCVI and too much more to mention them all! You just have to see for yourself.  The scarf collection this spring is unparalleled and we have a terrific assortment of socks from Vermont's own Solmates (those mix and match cuties), Blue Q, Ozone and Darn Tough.
If you are planning a getaway to someplace warm, we've got you covered!  Shorts from Kuhl and Woolrich, maxis and minis and bathing suits for men.
For Easter, we have a hopping selection of Jellycat stuffed bunnies, Folkmanis rabbit and chick puppets and a new batch of Zutano clothing for the very young. So come in, come up and have a blast! Don't forget our Save with 6 promotion and sign up for your birthday discounts.  Happy Spring!
"In the spring, at the end of the day, you should smell like dirt."
~ Margaret Atwood
Now there's good dirt and there's bad dirt.  So while you're cleaning house, yard, cars (bad dirt) and thinking about the gardens and getting the seeds started (the good stuff), we'll be doing the same.  Stop by and visit and take a break.  We are all so anxious to have everything done immediately when the weather gets better! Let's give ourselves a breather.  We survived the winter of 2014-2015!
To the best customers in the world (I'm not joking)!
Jack