It's that time of year again, still summer but new merchandise is coming in daily for Fall! I love watching the hanger pile dwindle as we hang each beautiful new item. We have to make room so the summer merchandise must go and the best way I can think of is to put it on SALE! We're marking down items daily from 30 to 75% off.  I am in a negotiating frame of mind so if something catches your eye from Spring/Summer '13, I'm willing to dicker!
What are new, so far, are Curio sweaters in deep, yummy fall colors (berry tones are big for fall); Comfy came in the other day, always living up to its name: tops, tunics, pants and vests in "wear now" fabrics; a small collection of travel-easy, affordable Moonlight pants and jackets, and we are well-stocked with Silver Jeans.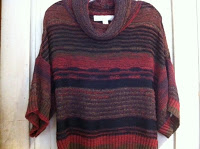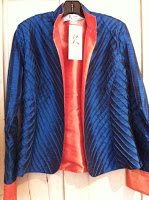 If you have a dressy occasion coming up, you may want to look at the Rarities silk tops and jackets in gorgeous colors.
Two more pieces from Jack and Jinger are here. Very cute, funky hoodies for now, with more on the way.
I love this company!