"In many ways September feels like the busiest time of the year: the kids go back to school, work piles up after the summer dog days, and Thanksgiving is suddenly upon us."
~Beene Brown
Whoa – slow down! I'll admit that there's a sense of urgency to take care of business as we prepare for winter but two of the nicest months of the year are dead ahead. Warm sunny days give way to cool clear evenings. The layered look slowly works its way back into fashion. I'm almost always rewarded with a forgotten $10 or $20 bill I left in one of my fleeces that's been dormant these last few months. September is beautiful. And it's also an opportunity to reflect on summer and scratch off a few more of the summer "to do" fun events.
Here at the Warren Store we are girding up for a wild fall season and will be showcasing many of our new vendors. Full disclosure – we don't have dates on many of our events as of this writing – it's a busy time for our suppliers to figure out time to be here! – but they will come. In September, we will have a local honey tasting and seminar, a Frost Beer tasting, a local hot sauce tasting, and local chocolate tasting.  That's our sense of urgency but it's a pretty appetizing one!
Appreciation.
We have been very appreciative to all of our friends who have stopped by this summer but a few recent events really jump out.
Lately the Warren Falls has been receiving a lot of press as one of the country's best swimming holes and this summer we've been seeing so many new faces from near and far in their "wet clothes over their bathing suits" look coming into the store. We've met many new friends and it got all of us to reflect on the beauty that is literally under our noses that we overlook because it's always there. When was the last time you were at the Warren Falls? Unfortunately we sometimes inadvertently overlook people close to us as well.
A few days ago, Ethel and David Bernard, a great couple who have been visiting us for many summers with their children and grandchildren, approached me and asked if they could donate a bench to be placed overlooking the Kid's Brook behind our deck. They love the valley, the village, and the store and wanted to show their appreciation for this special place.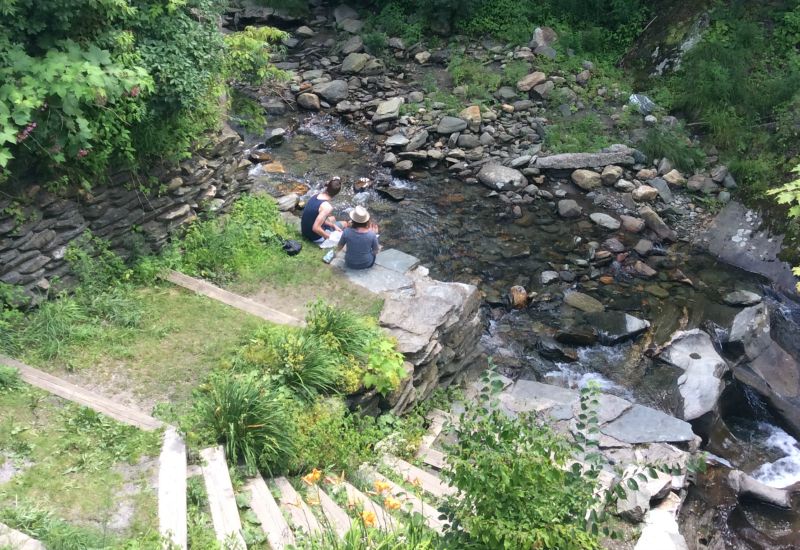 Last Saturday I went up to Sugarbush's Lincoln Peak to attend a wine and food tasting at the Gatehouse. Now I work up there in a very small capacity at SHARC and I see the flyers and postings of what they offer but rarely get the time to go. I'm down in the valley. What I saw were kids laughing and screaming in the Claybrook pool while a newlywed couple at Timbers were having their pictures taken, while people were racing by on the zip line, while the Eastern Mountain Bike competitors were racing down Spring Fling, while the wine tasting was going on! WHEW! Sugarbush does a great job in creating a year round experience up on the mountain for everyone. However for a lot of us we sometimes focus on what goes on in the valley corridor and miss out on so much that they provide. And remember that there's always Sugarbush's logo attached to just about every fundraising event and worthwhile cause that happens in the valley. Appreciation.
When you're planning your fall activity list I suggest you visit the Warren Falls, or come to sit on the new bench at the store, or stop up at Lincoln Peak. There's a lot of good stuff that we overlook right under our noses. And take that special person along that you might have been overlooking!
There's a time when autumn asks, what have you been doing all summer? I hope you all have a long list!
~Jack