"The thinnest yellow light of November is more warming and exhilarating than any wine they tell of. The might which November contributes becomes equal in value to the month of July." –  Henry David Thoreau
I admire his optimism but after a truly spectacular summer and fall season even Thoreau's words can have that "yeah right" response.  November is winter's waiting room month. A time to winterize, prepare and get all of those projects done before the snow flies. And November can be a powerful and assertive time. We have an opportunity to vote. We have an opportunity to get together with family and friends. We have  an opportunity to reflect on the past year and plan for the new year. That's what we're doing here at the store. It's a time to regroup and refresh.
We changed our hours to 8-6 everyday through the winter. We will stay open on Fridays until 7 when the winter season gears up in December.
Phil and I will feature a beer and wine each week with an emphasis on the new and obscure. Check out our Facebook page for our latest picks.
On Thanksgiving we are open from 8-12. That day all wines are 15% off. The bakery will be cranking out their incredible pies. Place your orders early. The 4th annual Turkey Trot to benefit the Warren PTO will take place through Warren Village at 10 am that day. Come down and run/walk with your friends and family and work up an appetite!
Our very popular Holiday champagne and sparkling wine tasting is on Tuesday, December 9th at 6 pm at Tracks at the Pitcher Inn. The deli and bakery will provide the hearty appetizers and dessert to go with the bubbles. The cost per person is $35 and you can make reservations now at the store. This always sells out. Start your holiday
party season with us!
We will close at 5 pm on Thursday November 13th to host the Mad River Valley Chamber of Commerce Mixer at 5:30. I encourage all chamber members or those considering membership to come by. You can make your reservation at the chamber.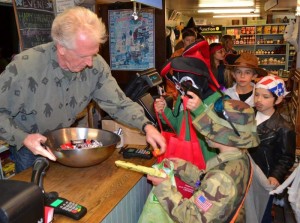 We had a great time on Halloween. I love seeing the kids and how creative the costumes are. Phil got lots of photos that are posted on our Facebook page. Check it out!
Upstairs we are filling up for holiday shopping. Gloves and mittens, hats and scarves abound; candles, cookbooks and cards, too. New clothing is arriving as well.  There are some fun and funky holiday tops that can go anywhere; dress them up or pair with jeans. Especially good for this season's dressing are the various styles and finishes of Lysse Leggings: faux leather and suede with wonderful stretch, perfect for tunics, sweaters and dressy tops.
A few dates to consider: we will show off some fashion at the Chamber Mixer on the 13th and Small Business Saturday is November 29th. Shop Local and earn money back when you use your American Express card. Country Christmas Saturday, December 6th; stay tuned for specials.
We're taking the umbrellas off the deck and putting wood on the porch. Slowly the area around the wood stove is clearing up. It's dark and stark but this month has its own beauty. Hopefully you'll have an opportunity to visit us and enjoy the fire. Any day now.
"Thanksgiving is an emotional holiday. People travel thousands of miles to be with people they only see once a year and discover that once a year is way too often!"- Johnny Carson
Jack