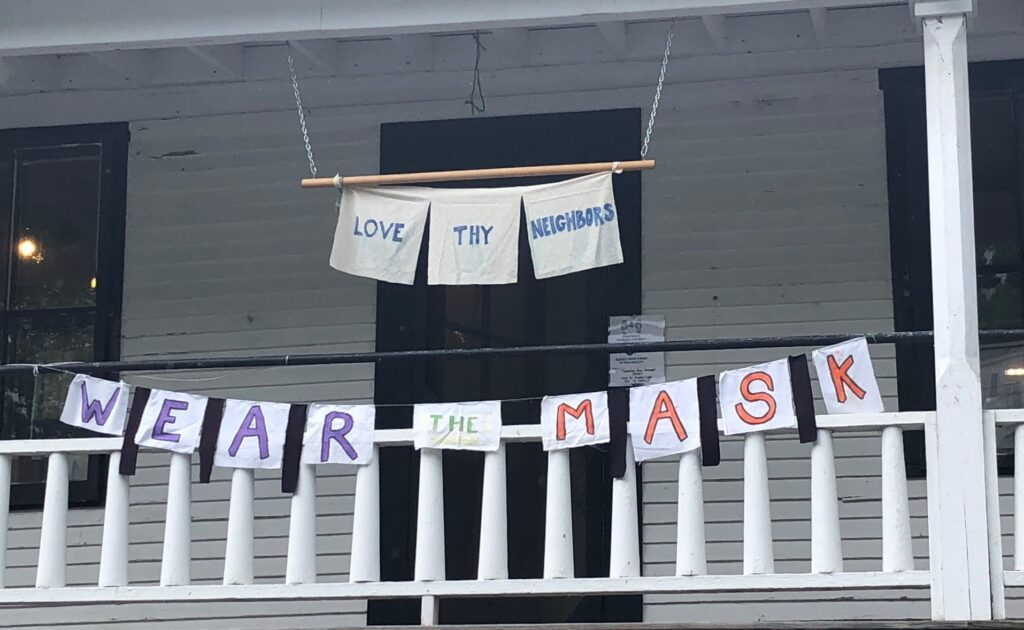 "America was not built on fear. America was built on courage, imagination, and an unbeatable determination to do the job at hand." – Harry Truman
The summer of 2020 will certainly be one to remember (or forget). The one thing we do need to remember is the innovation, grit, and determination that so many have displayed  in the face of adversity to adjust, adapt, and move forward.  This summer reminds me of the summers of old when you had to create your own fun and adventures and rediscover the simple pleasures that are waiting right under our noses. 
Here at the store we continue with our deli window orders for breakfast and lunch. Nothing says summer like ordering through a window!   Our front door is like an old commissary where you order great beer, wine and provisions and exchange a few words from the outside with the masked shadows at the entrance waiting on you in the inside! It's like a fun house at a theme park! 
Our bakery is creating amazing cakes and pies but the real hit is their homemade ice cream sandwiches every Friday. There is no better way to round out your lunch or just have for lunch! This Friday's selection is either malted milk ball with caramel swirl ice cream and chocolate sandwich, or orange creamsicle ice cream and vanilla sandwich. We have also added watermelon/lime popsicles!  Friday is also lobster roll day. We bring the coast to you. Call early- this summer icon goes quick! 
Our 4th of July this year will certainly be different but come into town to see the prayer flag display. Our new hours are Wed to Monday 9-4, closed Tuesday. In keeping with tradition we'll be selling coffee and bake items outside in the morning and firing up the grill over the weekend cranking out hot dogs and burgers in addition to our deli menu.  The upstairs will expand outside under the tents with fabulous deals on summer clothing.  This year's throwback summer starts in Warren Village this weekend!
"Diversity is not about how we differ. Diversity is about embracing one another's uniqueness." – Ola Joseph
We are open Upstairs! Limited capacity but please come up the outside stairs to the balcony, please wear a mask and we will greet you with hand sanitizer. The store is full with beautiful spring/summer clothing, toys and homewares; cards, puzzles, baby clothes and jewelry. Hobo, Hobo, Hobo! Come up and see us and please stay safe, practice all recommended protocols!
Let's beat this virus!
 "Summer is the time when one sheds one's tension and the right kind of day is a jeweled balm for the battered spirit. A few of those days and you can become drunk with the belief that all's right with the world." – Ada Louise Huxtable
String these beautiful days together and enjoy the simple pleasures of this unprecedented summer.
To the best customers in the world- Be safe, be strong- keep walking and keep talking!        Jack