Sandwiches, Soups & Salads
Our bread is baked fresh daily in our very own commercial bake kitchen out back in the barn. And sliced only when we're ready to make your sandwich. We also carefully blend many of the condiments we use for sandwiches, including cranberry-mayo, Boursin-mayo, and maple-mustard. With our Boar's Head brand meats, Cabot cheeses, North Country applewood-smoked bacon, and other high-quality protein, your sandwich is sure to delight. Like the ever-popular No. 6 (ask us when you visit). Oh, and did we mention breakfast sandwiches and burritos?
Our soups are all seasonal and always house made, usually hot but sometimes chilled. We craft our own stocks and use only the freshest ingredients. Check the soup board near the register where you'll find Tomato, Chicken Vegetable, Clam Chowder, Gazpacho, Cream of Fennel, or any one of our favorite recipes on offer.
We're planning to add fresh-made salads soon so check back later. We're thinking Dressed Greens and Caesar to start. In the meantime, we have Grab & Go salads in our antique cooler.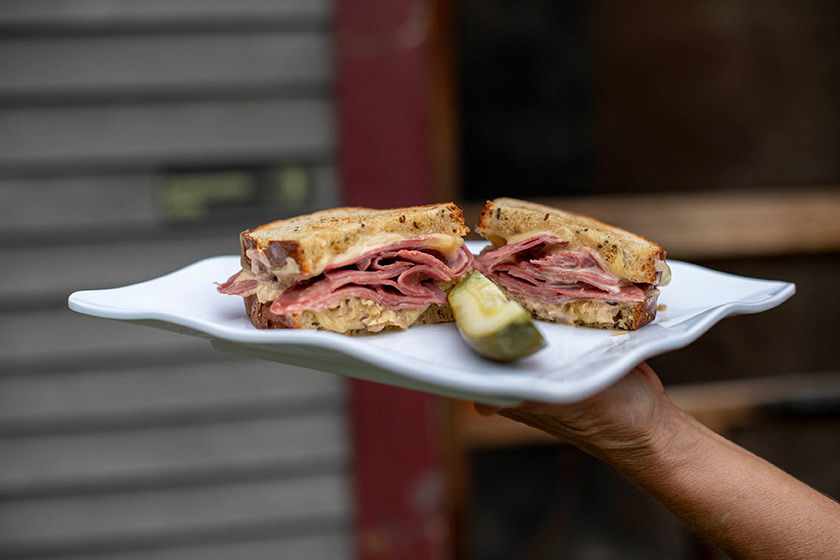 You're welcome to enjoy your meal inside or out, on our shaded deck overlooking Freeman Brook, on the porch, on the back lawn near the fire pit, or at our street-side picnic table.